Nature Strollers
A club for Orange County families who enjoy learning and playing in nature
Welcome to the Nature Strollers official web site! For trip reports, please visit the Nature Strollers Blog. To receive email about future outings, please join the Nature Strollers Yahoo! Groups list. Visit the Nature Strollers Underground discussion forum to participate in our group online and to see what we are talking about. Email Kat and Laurel for more information about starting up your own family nature study group, or view the Nature Strollers startup guide here. To join our parent organization, the Orange County Audubon Society, send an email to OCAS President Lynn Barber.

Winter is almost here!
It's almost wintertime... which means we will be slowing down for the season. There are always plenty of things to do during winter, though... go to an ice festival, make holiday decorations with things you collect outdoors, or take a winter hike in some new-fallen snow! Get outside with some friends or check your local papers and contact your local parks and preserves for happenings around you!
Looking for FREE activities to further encourage you to get out of the house? Want to take advantage of some programs offered by our local refuges, state parks, and preserves? Interested in hearing about other nature-related things happening in our area? Searching for ideas for a vacation close to home? We always have several activities we'll be participating in but not hosting, so we'll be posting them on our Nature Strollers Underground site. Don't forget to check out several other interesting nature-themed events hosted by places like the Wallkill River National Wildlife Refuge, High Point State Park, the Hudson Highlands Nature Museum, Hill-Hold Museum, the Orange County Land Trust, and others. Keep checking the Underground site for these and other postings about fun activities in our area. Don't forget to add our yearly outings from our calendar onto yours. See the calendar below for more details and directions.

Have you been checking our trip reports on the blog? We've been seeing some great things! We'll be adding a number of scheduled walks in the upcoming weeks (please see the calendar below). Stay tuned!


Please do not forget that we have regular weekly "impromptu" walks in addition to the scheduled walks on our calendar below. Check this web page daily or sign up to receive email about these spontaneous outings by joining the Nature Strollers Yahoo! Groups list.
We regularly schedule many trips with the Hudson Highlands Nature Museum, the Orange County Land Trust, the Glenmere Conservation Coalition, and with our parent organization, the Orange County Audubon Society, in addition to our regular spur-of-the-moment outings. Please join us!


Nature Strollers

Orange County, New York (2005): Two outdoorsy Orange County mothers, Laurel Dodge, an environmental educator, and Kathleen Diamond, a Teacher of the Deaf, became acquainted through the Orange County Audubon Society. They love taking their children outdoors. They found it surprising, however, that on trail after trail their families hiked alone. Speculating that many parents longed for an easy-going stroll with their young children they decided to offer a nature strollers group under the wing of Orange County Audubon. The mission of the Nature Strollers is to support parents and grandparents in their role as primary interpreters of nature for their families; to provide opportunities for families to enjoy unstructured time outdoors; to familiarize families with local trails, refuges, sanctuaries and preserves; and to develop networks among families with a common interest in nature.

Flexibility is the hallmark of Nature Strollers. Weekly walks are planned to accommodate the schedules of the greatest number of group members. Trail difficulty is dependent on the ages and skills of the children, with toddler and stroller-friendly trails being the norm. The Nature Strollers have regular stroller outings in addition to jogging/all-terrain stroller days. Outing lengths are often under a mile and last about an hour. Kathleen and Laurel bring along various field guides, butterfly and pond nets, binoculars and cameras so participants can truly experience and learn about their natural surroundings. The walks provide the excitement of discovery and enjoyment of nature study to families that may not do so on their own.

Though Nature Strollers is in its infancy, it has generated excitement and interest in the communities of the Orange County Audubon Society. This fledgling group now boasts more than 100 member families. Please feel free to visit the Nature Strollers blog to read about and see pictures of Nature Strollers outings and email Laurel and Kathleen if you are interested in starting one of these in your own community. If you would like to join us on our outings, sign up here to join our Yahoo Groups distribution list and receive email about when and where we are planning to go.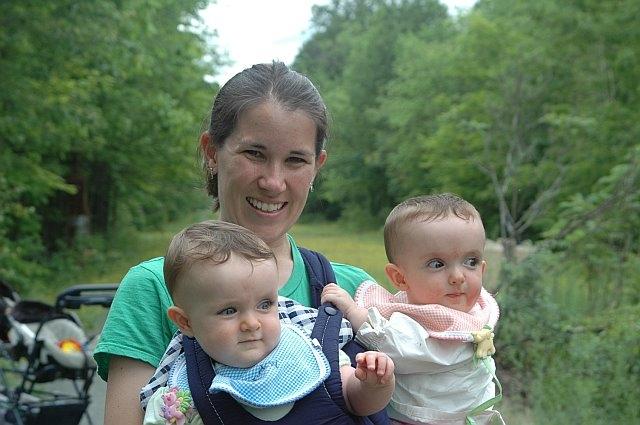 Orange County Audubon Society Logo

| Home | Nature Strollers Blog | Nature Strollers Yahoo Groups | Orange County Audubon Society | National Audubon Society | Children & Nature Network |



info@naturestrollers.org
http://www.naturestrollers.org
http://naturestrollers.blogspot.com/
http://groups.yahoo.com/group/naturestrollers/
http://www.orangecountynyaudubon.com/
http://www.audubon.org
http://www.childrenandnature.org